Laboratory coater
Customers who require batches of only a few kilograms to be coated can make use of the service offered by our Technical Centre.
The Centre regularly uses SATEC® laboratory coating machines of all sizes, from the SATEC CONCEPT MICRO to the SATEC CONCEPT® ML 2000 and the SATEC CONCEPT® 1.10.
The ML 2000 and the CONCEPT 1.10 is registered in the Julius Kühn Institute list of seed treatment facilities with quality assurance systems for dust reduction. They could therefore also be available for seed treatment with restriction NT699-1.
https://www.julius-kuehn.de/at/richtlinien-listen-pruefberichte-und-antraege/
Chapter Saatgutbehandlungseinrichtungen/seed treatment facilities.
For the last 20 years, we have been charged by the Sortenförderungsgesellschaft with almost all EU variety testing for German locations in broad beans, forage peas, sunflowers and winter oilseed rape. (https://www.bdp-online.de/de/SFG)
Demonstration installations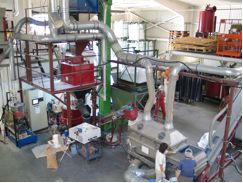 In addition to the laboratory coating machines we also have a full-scale coating facility complete with conveyors, dryers, extraction unit and packaging system with an output of approx. 2 tonnes of coated seed per hour or 1 tonne of 1:1 pelleted seed per hour. This facility is used mainly for demonstration purposes, test coatings and pelletings for new formulations, and as a test plant for new components.